Walking Rumor, metal band from Denmark, just released their newest single Let Them Talk. The song is one in a series of singles that leads up to their coming album Symbiosis, which is set to be fully released in 2020. The song is recorded at LAK Studios, produced by Claudio Andersen and mixed/mastered by Chris Kreutzfeldt. Let Them Talk is uplifting and strikes the listener with an atmosphere of honest lyrics, heavy guitar and exploding choruses. Let Them Talk is truly one of the best songs released from Walking Rumor yet – and we must talk about it. 

Walking Rumor is a band that writes with such honesty, that it's almost hard not to relate to their story. They love to surprise their audience with their genre and their latest release Let Them Talk is no different. The song starts out with a very modern, atmospheric intro that we haven't heard from the band before, which then explodes into a wall of uplifting sound that sends you flying. Let Them Talk is a song that knows when there is a chorus to be played and Walking Rumor delivers. 

Let Them Talk is a song that is very different from the what we've heard from Walking Rumor in the past. The song provides the listener with an encouraging atmosphere, but with lyrics that touches upon the invisible battles one might be fighting. All though Walking Rumor has written songs about mental health in the past, this song represents more than that. The first lyrics you hear on the song says; "It started with a feeling that turned into a word. With passion it grew stronger every time that it got hurt", which could indicate a specific feeling that we all share but experience in different contexts. 

"Let Them Talk is a personal favorite of mine and when writing the lyrics, I got kind of stuck in the process of the chorus. Andreas came up with this amazing melody with a few words to fit and together we found a common understanding of where the song was headed. We had the intention of making it uplifting from the very beginning, since the chorus was so big and it gets hard for me to not overdue it live, because I get so excited building up to that chorus every time" – Kenio Gustavsson (vocals)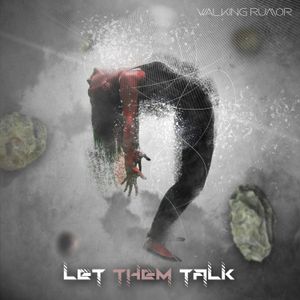 Listen to more music from Walking Rumor!
Spotify: https://open.spotify.com/artist/4SReRO2yeGmiwygeogDcFJ
Soundcloud: soundcloud.com/walkingrumor 

Get in touch with Walking Rumor today!
Press and booking: walkingrumor@gmail.com
Official website: www.walkingrumor.com
 
Social media
Facebook: facebook.com/walkingrumor
Instagram: Instagram.com/walkingrumor
Twitter: twitter.com/walkingrumor